Wraparound is a professional learning program to help you use empathy and build relationships with students to address alcohol and other drug (AOD) use.
Intervening early in AOD use can stop problems getting worse and help improve your students' wellbeing.
All school staff have a role in early intervention and are welcome to attend Wraparound. It is free for public and non-government schools, and support for teacher relief is provided.
School staff working in pastoral care roles may find Wraparound particularly helpful. Those roles may include student services staff, chaplains, school nurses, deputy principals, heads of learning area, heads of department and youth workers attached to schools.
By participating in Wraparound you will:
consolidate learning on AOD use;
increase awareness of procedures for incident management and intervention support that guide consistent, inclusive responses to student AOD use;
learn how to use key models to deepen understanding of an individual's AOD use behaviour and possible areas for intervention;
rehearse and strengthen communication skills;
improve ability to engage with empathy to raise the issue or respond to disclosure around AOD use and related behaviour;
build skills in Motivational Interviewing relevant for use in the school context; and
work with tools that support students to reduce risks of harm from their AOD use and promote positive behaviour change.
The steps to participate in Wraparound:
Complete pre-reading or a brief online course (available from February) to familiarise yourself with the concepts of AOD use and early intervention.
Attend a two-day, hands-on, face-to-face workshop that focuses on building skills in an interactive learning environment.
Take part in a one-on-one web-conference or teleconference with a Wraparound facilitator to review the skills you have applied at your school. This will take place around six weeks after the two-day workshop.
Attend a one-day, face-to-face workshop to build your capacity to continue using your new skills.

Watch an introduction to Wraparound. Preview Wraparound by reading Module One, Module Two and Module Three of the resource.
Find out how you can participate in the Wraparound program.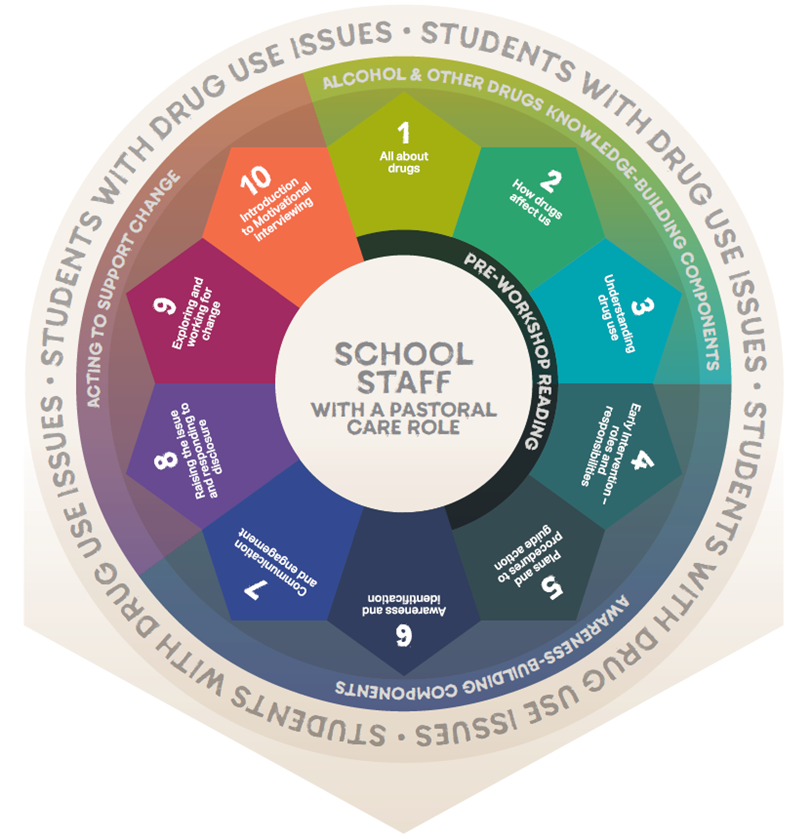 Testimonials
"Thank you for delivering such a wonderful seminar. It was super informative, the delivery was expert value and I was terribly well engaged throughout. I've been to so many of these things but this is one of the best and the most engaging one I have ever attended. Thank you."


"Thank you for a very informative, activity based, positive and supportive course. The presentation was excellent and the resources greatly received. I would and will recommend this course to anyone."


"A very comprehensive 2 days with lots of interaction and teamwork within a safe and supportive environment. The resources are very well written and informative, they are practical and have strengthened my confidence to engage and talk with my students."