Getting it Together: Road Safety Resources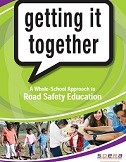 Getting it Together: A whole school approach to road safety education includes a range of easy-to-use tools and templates, sample action plans, road safety education guidelines, and other information that will support a whole school approach.
Based on the Principles for School Road Safety Education research, the resource is innovative in its application of the latest road safety education research into practice.
The resource includes planning tools and templates, a CD-Rom and poster, and is supported with professional learning delivered by SDERA.
Planning tools

Planning templates (Word)

Planning templates (pdf)
Road Map: A Road Safety Directory for Schools and Communities

Road Map is a directory that has helpful information, a guide to road safety education resources, and contact details for services and organisations across Western Australia who can support and assist with school road safety education programs and initiatives.
The Road Map directory complements a best practice research which indicates that when schools, parents and communities work together, better health outcomes are likely to be achieved.