SDERA Resources for schools
School Drug Education and Road Aware (SDERA) supports schools and the wider community in the provision of best practice resilience, drug and road safety education for young people. The drug content in SDERA resources includes information about methamphetamine and other drugs appropriate to each age group. School staff are encouraged to utilise the resources in the context of a comprehensive drug education approach.
New Challenges and Choices teaching and learning resources for Year 7 to 9 are now available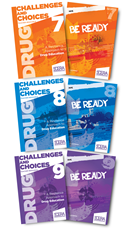 The content aims to support and expand students' knowledge, understanding, skills and attitudes in relation to their health, safety and wellbeing.
The resources are designed to address two relevant and contemporary health contexts for young people, mental health and wellbeing, and drug education.
Challenges and Choices includes a Teacher Resources with two modules, Resilience education and Drug education, and the student workbook ‐ Be Ready.
Challenges and Choices for early and primary years
---
School drug education guidelines



---
Getting it Together: A whole school approach to drug education
---
Connect
---
CHAT: Changing health acting together



---
Choices: Alcohol and other drugs