Regional Workshop Registrations
SDERA offers a range of professional learning workshops which focus on supporting early childhood staff, school-based staff and community agencies in the areas of resilience, drug and road safety education.
Professional learning workshops and seminars are free and are conducted throughout regional areas of Western Australia. SDERA covers associated costs and contributes up to $350 towards teacher relief for each teacher who attends. 
Places in SDERA workshops are limited and we ask that you make a commitment to attend once you have registered.  If you are unable to attend, please let us know as soon as possible so that we are able to offer your place to another applicant.
Department of Education staff, scroll to the table below and register through the Professional Learning Information System (PLIS).
*Non-Department of Education staff, create an account by clicking on the Register button here: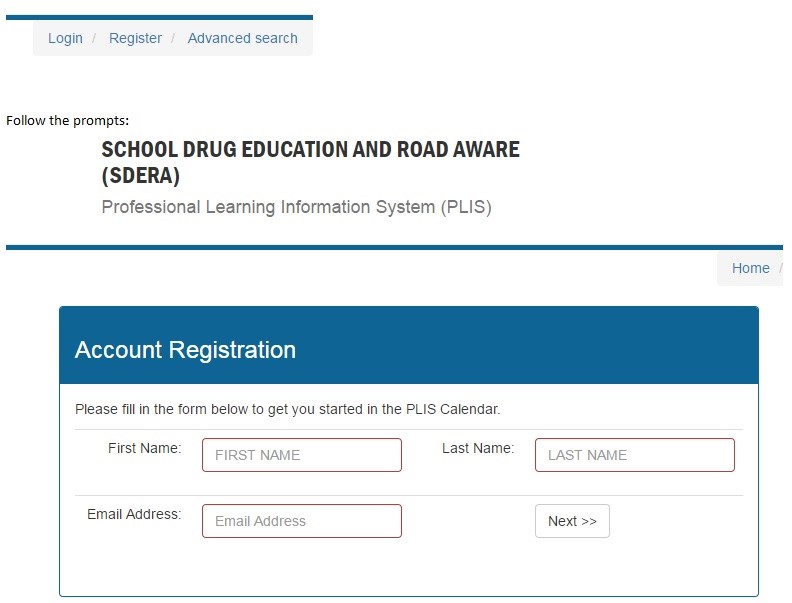 Once your account is created, save your login details, click on the Login button and register for the workshop of your choice.
***PLEASE NOTE***
Registration for a workshop is only complete once you
have received a confirmation e-ticket.
| | |
| --- | --- |
| | Currently, non-Department of Education staff may be experiencing difficulties logging in. This is being investigated and we hope to have this fixed as soon as possible. Please contact sdera.co@education.wa.edu.au for workshop registration assistance while this issue is being resolved. |
Should you encounter any problems call 08 9402 6266. 

TERM TWO 2017


DATE


REGISTRATION


VENUE / REGION


CONTACT

Safer Kids

Monday, 29th May 2017 

*Non Department of Education staff:

CREATE AN ACCOUNT/ LOG IN AND REGISTER HERE

Department of Education staff: 
REGISTER THROUGH PLIS

Wheatbelt North

McIver House
297 Fitzgerald St, Northam


For further information, 
email:
rose.power@education.wa.edu.au

Safer Kids

Wednesday, 31st May 

*Non Department of Education staff:

CREATE AN ACCOUNT/ LOG IN AND REGISTER HERE

Department of Education staff: 
REGISTER THROUGH PLIS

Goldfields - Esperance

Esperance Senior High School
Pink Lake Road, Esperance

For further information, 
email: jill.fitzpatrick2@education.wa.edu.au

Wednesday, 31st May 

*Non Department of Education staff:
CREATE AN ACCOUNT/ LOG IN AND REGISTER HERE

Department of Education staff: 
REGISTER THROUGH PLIS

Kimberley - Derby

Derby Professional Centre
2 Clarendon Street, Derby

 

For further information, 
email: paul.searle@education.wa.edu.au

Talking Drugs

Friday, 9th June

*Non Department of Education staff:

CREATE AN ACCOUNT/ LOG IN AND REGISTER HERE

Department of Education staff: 
REGISTER THROUGH PLIS

Kimberley - Broome

Mangrove Resort Hotel 
47 Carnarvon Street, Broome 

For further information, 
email: paul.searle@education.wa.edu.au

Talking Drugs

Sunday, 11th June

*Non Department of Education staff:

CREATE AN ACCOUNT/ LOG IN AND REGISTER HERE

Department of Education staff: 
REGISTER THROUGH PLIS

Kimberley

Kimberley Grande Resort Hotel
20 Victoria Highway, Kununurra 

For further information, 
email:
paul.searle@education.wa.edu.au

 Smart Steps

Tuesday, 13th June 

*Non Department of Education staff:

CREATE AN ACCOUNT/ LOG IN AND REGISTER HERE

Department of Education staff: 
REGISTER THROUGH PLIS

Goldfields - Esperance

Esperance Senior High School
Pink Lake Road, Esperance

For further information, 
email: jill.fitzpatrick2@education.wa.edu.au

Smart Steps

Wednesday, 14th June

*Non Department of Education staff:

CREATE AN ACCOUNT/ LOG IN AND REGISTER HERE

Department of Education staff: 
REGISTER THROUGH PLIS

Kimberley - Broome

Mecure Inn Continental
1 Weld Street, Broome

For further information, 
email 
paul.searle@education.wa.edu.au

Safer Teens

Thursday, 15th June 2017

*Non Department of Education staff:

CREATE AN ACCOUNT/ LOG IN AND REGISTER HERE

Department of Education staff: 
REGISTER THROUGH PLIS

Mandurah - Peel

Halls Head College
1 Casuarina Drive,
Mandurah

For further information, 
email tania.gigg@education.wa.edu.au


TERM THREE 2017


DATE


REGISTER


VENUE / REGION


CONTACT

Monday, 17th July

To register email:
libby.winchcombe@education.wa.edu.au



Warren Blackwood - South West

East Manjimup Primary School
46 O'Connor Street, Manjimup

For further information, 
email:
libby.winchcombe@education.wa.edu.au


Thursday, 7th September

To register email:
tania.gigg@education.wa.edu.au


Mandurah - Peel

Rockingham 
(Venue to be advised)

For further information,
email:
tania.gigg@education.wa.edu.au


TERM FOUR 2017


DATE


VENUE


REGION

 

Thursday, 26th October

To register email:
jill.fitzpatrick2@education.wa.edu.au

Esperance - Goldfields

 Norseman
(Venue to be advised)

For further information, 
email: jill.fitzpatrick2@education.wa.edu.au