Back
Keys for Life pre-driver education program wins national safety awards
24 Mar 2017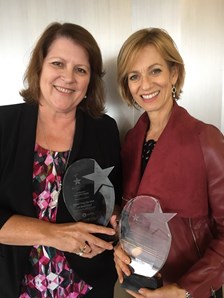 Keys for Life, a pre-driver education program used by many WA secondary schools, has won two Australian Road Safety Awards.
Developed by SDERA in 2004 and endorsed by the Department of Transport, the program links to the WA Licensing System by giving school staff the ability to run the Learner's Permit Test and educate Year 10 to 12 students about safer road use.
The highly successful program is now run in 68% of secondary schools across WA.*
The announcement was formally made yesterday at the Sixth Annual Australian Road Safety Awards in Melbourne where the program was awarded the best Community Program in Australia.
Keys for Life also received the Founder's Award for Outstanding Achievements, an award that cannot be entered but is awarded by the panel to recognise achievement.
SDERA Manager, Anne Miller, was proud to accept the awards on behalf of the organisation and used the opportunity to stress the importance of road safety education for young people.
"Preparing young people for safer driving is an important part of the Western Australian road safety strategy as they are over-represented in road crash statistics each year," she said.
"Keys for Life is an all-encompassing program that provides school staff with professional learning and resources that have been mapped to the WA Health and Physical Education Syllabus.
"SDERA are honoured to accept these awards and feel proud knowing that a large portion of young WA drivers have received the best pre-driver education available."
As of last year, there were over 14,600 students in WA participating in the Keys for Life program.
Keys for Life is proudly funded by the Road Safety Commission via the Road Trauma Trust Account, and endorsed by the School Curriculum and Standards Authority, the Department of Education WA, Catholic Education WA and the Association of Independent Schools of WA.
(*2016 data based on the number of schools with capacity to implement the program)